20 juillet 2009
Pour clôturer la collection Sixpack France x Hajime Sorayama, nous avons réalisé une interview de l'artiste Japonais. Dans cet entretien, Sorayama revient sur son parcours, ses influences, explique son processus créatif, et son travail sur notre collection.
Merci à Miami pour son aide.
Hajime Sorayama -Interview with Sixpack France, July 09-
Can you remember the first time you draw a robot pin-up ? How did you come with the idea of merging sci-fi with pin-up art ?
Of Course, I remember. It was in the year 1978. As an artist, I think that it sent a visual shock regarding the identity of authors. Because, the basis of Creativity and Art is first to amaze. Even combination of common motifs that are already well known can be fresh if it has no mark or fingerprints of another author. Regarding the way the idea came up to me, it was not a miracle, I just loved both genre.
Designing female robots… Was it the ultimate step in your quest for the perfect woman ?
The ultimate step is of course ahead, in the movement to a future reality, it is a female robot gifted with an artificial intelligence capable of feelings. It is too bad that at the moment we can only enjoy it in a superficial way.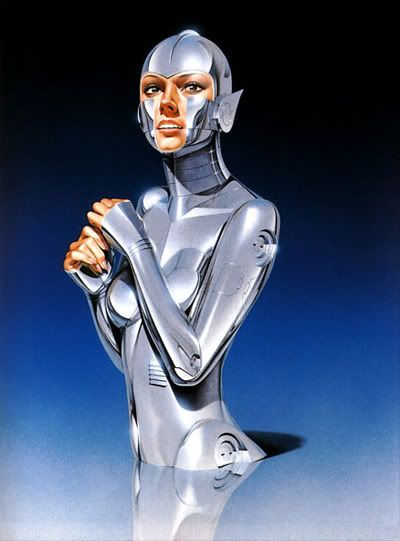 You have also designed Sony's robotic dog AIBO. Why are you so fascinated with robots ? And do you believe owning a robot will be a common thing in the near future ?
No one is fool enough to not feel like burning of enthusiasm by being chosen by SONY. I gave my love and passion to robots with all the energy I had. This time was the youth of my old years. However, it is unpleasant that due to circumstances it ended in an incomplete combustion. AIBO has proven that there is a market in the future for robot as a tool, but because development of robots to the intellectual level that we are hoping implies huge costs, I think that, except for military use, commercialization of robot is unlikely. (Am i intoxicated by Terminator? I am!).
How do you imagine the future ? What will the world (and humans) look like in twenty years ? And in a hundred years ?
I think that in 20 years from now it will be the peak of the worldwide chaos. If we continue this way in 100 years from now, the survival rate of primates will be close to zero. The image that I am making myself of the front cover of ISSUE ONE will be very beautiful. (hahaha!).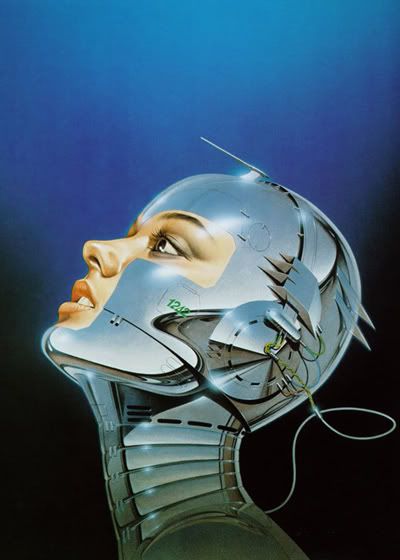 Your most famous characters, the gynoids, are women made of flesh and steel. This is something still a lot taboo. Human body is a sacred thing. What is your view on that topic ?
I think that thewords taboo or sacred are religious fundamentalists spells, I do not feel concerned by that. Around me, Tools and Plastic surgery, orthopedic medicine evolution, artificial organs and the like are made of steel and plastic and are something common. Cosmetics, Jewelry, Accessories, Fashion apparels, are also made of steel and plastic. It is a shift toward light. (Michael Jackson was in advance for his time…
Religion is a great invention that was necessary for a selfish mankind but I think that it has already come to its expiration date and that its now more harmful than anything. Jessica Williams (journalist at the BBC) wrote in her book: "Within the cultured person of Europe some go so far as to say that people who have faith in a religion are psychologically immature"
Could you tell us a bit about your creative process ? One can think about airbrush or even computer graphics when looking at your art, although it is mainly executed with pencils, tiny brushes and acrylic paint.
I express myself with Sufmato on a flat surface so as ordinary people can smoothly understand.I compensate the lack of sense that our age is taking by an intensive use of my body and time. I always think while painting that it would be nice if I could be more able to express impossible light and reflection, temperature, softness, etc with paint. It is also a kind of Fantasy. You can easily do that with digital animation, but I am obstinately using that outdated techniques of analog expressions that restrain me!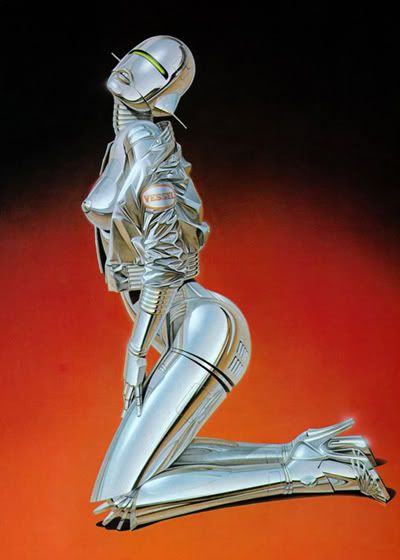 Sixpack's new collection "Past, Present, Future" explores the links between artists through history, each generation influencing the next one. Do you see such a kind of connection in your work ?
I think that the artist, taken in the vortex of a cultural stream, cannot realize the existence of a "Mème". The next generation and the critics will decide that by filtering. I struggle every day in order to stay in the memory of people. If that happens, I would be really happy.
Thank you, Mr. Sorayama !
Commentaires
be friendly

14 août 2009, 2 h 43 min

WOW! That is absolutely amazing work. Thanks for introducing me to Sorayama-san.
Laisser un commentaire